Custom Peptides Overview
In biological research it is crucial you can trust the integrity of materials and advice you're supplied with. The custom-synthesized peptides you receive from Mimotopes are always correct by design manufacture. Our experienced staff can assist to ensure your sequences are right for your application. Your peptides are then synthesized to exacting standards.
A Wide Choice for Synthesis
Mimotopes can tailor your custom peptide synthesis with a wide range of options. The following are some of our commonly requested peptide modifications, although many others are possible:
Modified residues such as phosphoamino acids
Fluorescent labels
Biotinylated peptides
Acetylation
Nonradioactive isotopic labelling
Amidation
Fatty acid capping
Cyclic peptides (disulfide and N- to C-)
Succinylation
Branched peptides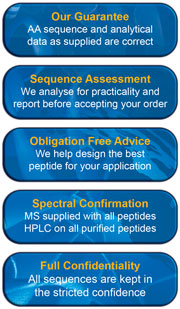 The key benefits of custom peptides from Mimotopes

Mimotopes also quote for as little as 1mg of peptide, allowing you to save by ordering only the amount you need. For applications needing economical sets of screening peptides, ask about PepSets™, libraries of "as synthesized" custom peptides.
Immunological Services for Research
Having made your peptides, Mimotopes can perform a number of immunological services, as shown in the table below. These options can be selected when you request a quote, otherwise speak to us for further details.
Peptide-protein conjugation service
Peptide-coated ELISA plates
Peptide affinity purification of antipeptide antibodies
Epitope mapping service
Generation of Antipeptide Antibodies
Immunoassay development
ELISA assay of antibody
Antibody labelling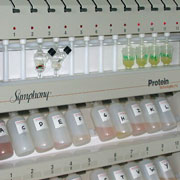 Custom manufacture with automated synthesisers

Modern Synthesis and Purification Technology
Mimotopes' custom peptides are synthesized in modern, automated synthesizers using the mild Fmoc chemistry method.
Up-to-date chemistry includes the use of preformed secondary-structure disrupting dipeptides known as Pseudoprolines1 to minimize poor coupling efficiencies which result when peptide molecules form secondary structures during synthesis.
Computer control and monitoring of peptide assembly and purification, from sequences stored in a verified database, ensures reliability of sequences. Peptides are then purified on automated preparative HPLC systems. After fractions are analyzed by LC and MS, only the best fractions are selected as final product.
A Quality Focus
Purified peptides are routinely assessed by analytical reverse phase HPLC (RP-HPLC), and are checked for correct identity by mass spectrometry (MS).
Mimotopes goes the extra mile to confirm the correctness of the peptide and its analytical data;
Mimotopes uses electrospray mass spectrometry (ESMS),2 a technique which was developed to allow the MS analysis of delicate biomolecules without causing breakdown. The high efficiency of ESMS in ionizing peptide molecules without damage also lends itself to quantitation via ion counting, a feature which Mimotopes puts to good use for the independent cross-checking of the validity of analytical HPLC data.
Assigning a peptide purity value by RP-HPLC involves careful scrutiny of the elution profile of the peptide for signs of inhomogeneity. "Shoulders" are excluded from the calculation of the peptide's purity value, and LC/MS is used as a supplementary analytical tool for peptides with unusual chromatographic behaviour (e.g. peptides containing proline-proline bonds). Ion pairing analytical HPLC is used for highly charged peptides.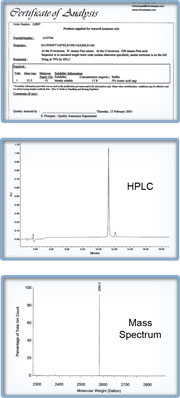 Certificate of analysis and spectral confirmation

Documentation and Packaging
Each peptide is shipped with a Certificate of Analysis (C. of A.) based on up-to-date analysis of the peptide.
The C. of A. includes details of the peptide, the quantity and purity supplied, and helpful information on the solubility of the peptide in the buffers used during purification. All purified peptides also include a printout of the analytical HPLC profile and electrospray MS data. Peptides are also shipped with 'A guide to handling peptides' and 'Interpreting the results of peptide analysis'.

Mimotopes' peptides are packed under dry nitrogen gas to minimize oxidation or other types of degradation during shipment and storage. After opening, we recommend peptides are stored dry in a freezer (details given in our technical guide to handling peptides; a copy is shipped with each peptide).
Consultation and Ordering
Mimotopes offers an obligation-free consultative quote. We will help you choose the most appropriate peptide sequence, purity and quantity for your needs, we will assess the sequence(s) for feasibility, and provide a quote from which you can choose your preferred specifications. In many cases, feedback provided to you on the feasibility of the candidate sequences can result in a better choice, e.g. a peptide which is:

more stable,

more soluble or

more economical than the first candidate sequence.
Obtain a custom peptide quote or assessment directly through our on-line request form, or contact us by email, fax, phone, or through the Contact Us form on this website. You can even order catalog peptides directly. For custom peptides we require full information on sequences, amount and desired purity level(s), which in many instances will be finalized with you after a technical discussion with our experienced technical representatives. All sequence information will be kept strictly confidential.
Mimotopes has offices appointed in a number of countries (see Worldwide offices for details).
Your Success is our Reward
Mimotopes' support for your peptide based research does not stop when your products are shipped. We are always keen to see your research succeed, so feel welcome to contact us at any time through our support group (peptide_support_ group@mimotopes.com).

Our regularly updated peptide publications database lets you draw on the combined experience of hundreds of satisfied peptide users. We value your feedback on peptide-related issues.


References
1. Sampson, W., Patsiouras, H. and Ede, N.J., The Synthesis of 'Difficult' Peptides Using 2-Hydroxy-4-Methoxybenzyl or Pseudoproline Amino Acid Building Blocks: A Comparative Study, J. Peptide Sci., 5, (1999), 403-409.
2. Alomirah, H.F., Alli, I., and Konishi, Y.J., Applications of mass spectrometry to food proteins and peptides, J. Chromatogr. A., 893, (2000), 1-21.
3. Smart, S.S., Mason, T.J., Bennell, P.S., Maeji, N.J. and Geysen, H.M., High throughput purity estimation and characterisation of synthetic peptides by electrospray mass spectrometry, Int. J. Peptide Protein Res., 47, (1996), 47-55.
4. Sereda T.J., Mant C.T., Hodges R.S., Use of sodium perchlorate at low pH for peptide separations by reversed-phase liquid chromatography. Influence of perchlorate ion on apparent hydrophilicity of positively charged amino acid side-chains., J. Chromatogr. A., Jul 25; 776(1), (1997), 153-65.